27/05/09
Wednesday
My second visit to nuffnang office,
Thank to nuffnang for the 7 tickets!
My wrong street walking day...

Woohoo people! First thing first! Thank to nuffnang for the 7 tickets on singapore flyer! Won this through the family contest which i sent a week ago...haha Location and time will be held in this coming saturday 30/05, the family day! haha... Alright, read the next few paragraph to know the interesting happened today! xD


Evening around 5pm, met
meldric
and we on the way to nuffnang office to redeem our 'prize' The closing time of collection was 5.30pm, lols we reached there was like 5.28pm!!! no choice, nid to run this time...Run RUn RUN!!!! luckily ran fast, we reached there just 5.30pm on time!! woohoo! haha...*i saw new nuffie* Meldric and I collected the letter *yay* *smile* *whole body sweating* lols... Well people, below here is my family contest post..click it to preview it! xD
Family Day Contest
Family Day Contest
Family Day Contest
************************************************************************************
As soon as we collected our tickets "letter", we took mrt all way down to bugis and have our dinner there, after that, went over to kaizhi graduation night...Well, walking over is the worst, why? me and
meldric
been walking toward the wrong street!!! almost walked to clark quey ar...lols...so suay sia... Overall, we reached the NAFA (Nanyang Academy of Fine Art) at 7.35pm, lucky still got chance to see their 'master piece'.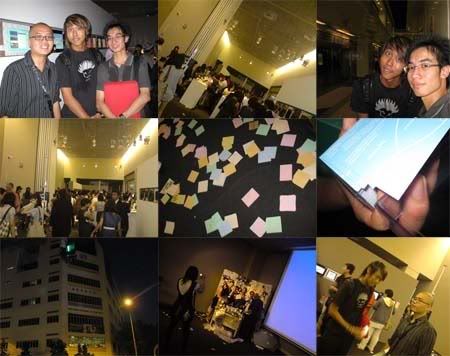 Basically, their graduation for today is to show out their workpiece in school, their project to the public,produce,diector of different company...bleah bleah bleah~ Well, me also do graphical design, Therefore, i was invited by kaizhi to his graduation nite, to view this project work and give some comment on it...! My review on his artwork, is that...the art of his creation, his design actually impress quite alots, esp the space master piece! i totally like its effect ar! haha...Other then tat, his portfolio on photography and photoshoot was great too! People if you are interested, please visit his project which named as
TAY KAI ZHI
at the
NAFA grad show exbihition!
is available
from today till friday 10AM to 7PM! and Saturday: 10am to 5pm
Check out the Map!
You may visit this link for more info on his portfolio work!
http://aversence.blogspot.com/
http://aversence.blogspot.com/
http://aversence.blogspot.com/
************************************************************************************
Tats all for today...
Thank for your reading and viewing! xD
[
Do Tag Before you leave this blog
]