28/06/09
Sunday
Transformer week

As the title say...Transformer week! Transformer 2 movie have been release since past few day and i call it transformer week because everyone is crazying...chasing about transformer show! Go everywhere [cinema] you will see people buying ticket for transformer 2 movie and as the result, the Box Office from 4th place went up to No.1 place!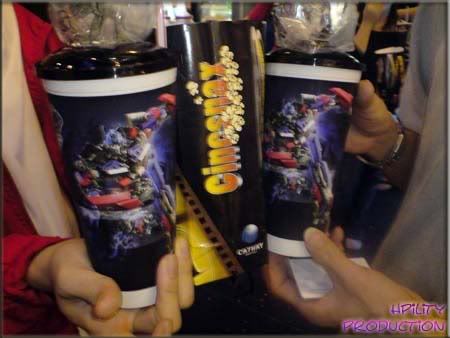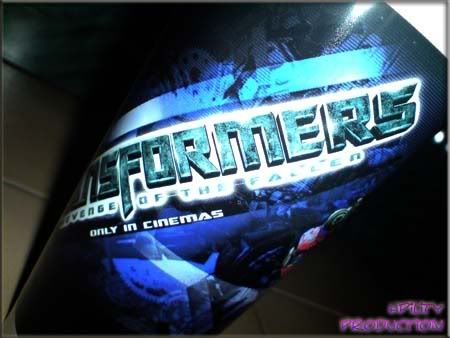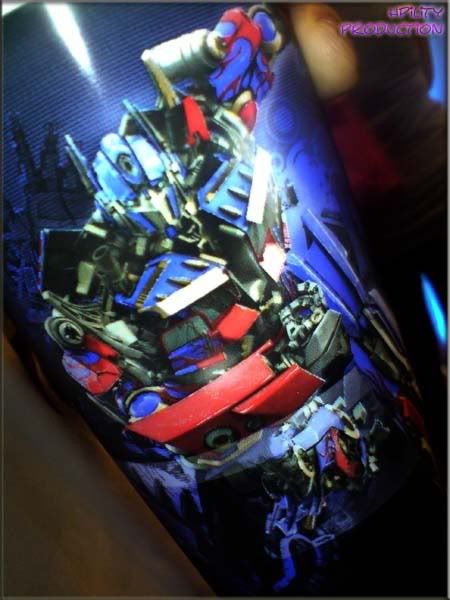 Friday, I met my cousin and uncle at AMK hub for transformer 2 (Tf2)movie..My both uncle were transformer fans and they really go into collection of their toy thingy stuff! haha...I brought this Tf2 ticket since thursday and on friday itself, i went in...and i realise i brought 2 couple seat! LOL...Last row from the back and the view of the threater was damn cool man! xD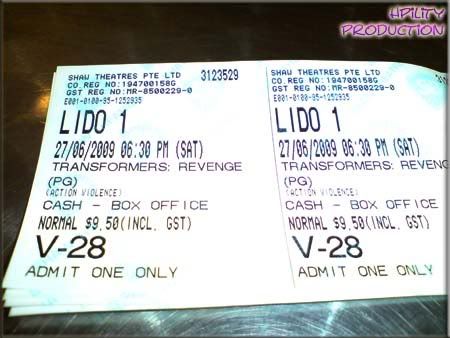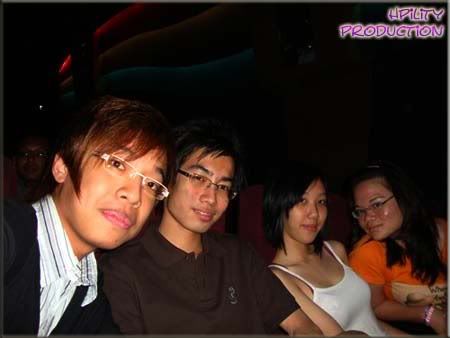 haha...let me show you how fun twitter is...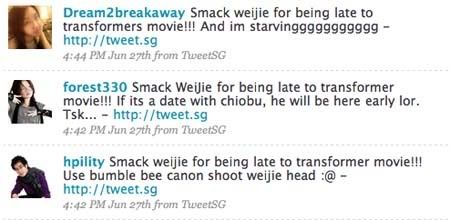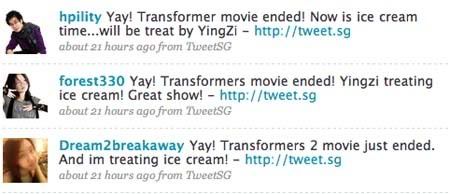 LOL...even i PS them they also want to twit...*wa piang*

Yesterday, i went for transformer 2 movie again! but this time, with blogger of Weijie,Joyce and yingzi! Joyce brought the ticket at orchard shaw house...We met at around 3pm plus, went for dinner at mcd and kfc before going for movie. Was great to watch tf2 again cos really worth it! haha...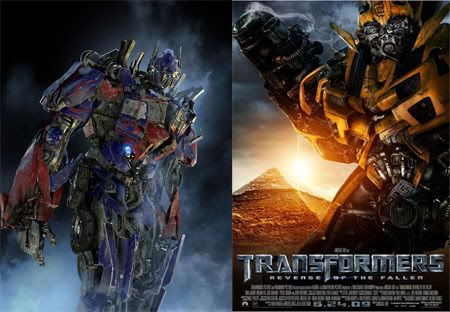 Transformer 2 movie Review
Opps...Not really review but wanna share something on what i see..xD *might be spoiler* but i guess by now everyone has watch it...Transformer 2-Revenge of the Fallen...From the title itself, we know that the bad guy of transformer is coming back on earth to take the revenge on prime...For my review, Inside this movie, it will be on its visual effect graphic! The 3D was great and the ending of storyline was good too...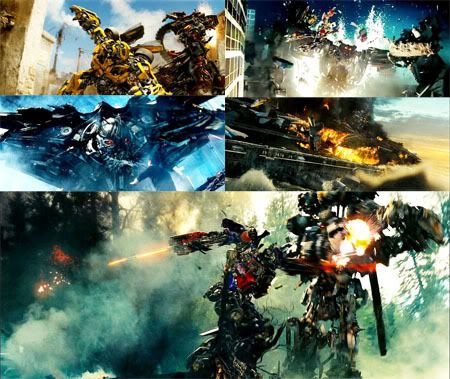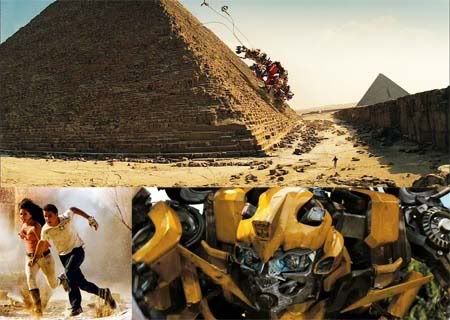 Inside this movie, i guess many people will be watching on Bumble Bee [friendly transformer] which like to help people! As for the fighting part, the prime,megatron and the fallen...you will never miss it! xD Continue from Transformer 1 i could say that Transformer 2 movie was excellent and my rate on this movie...
5/5 star!
Prime,Megatron and Fallen...
which one die at the last of movie?
haha...go watch it to find out the answer now! Best recommended movie of the week!
Alright, tml onward i nid to design the coming up bloggers gathering event poster! In July! The 4 Nuffnanger Birthday celebration (BBQ + GAME) party...haha...Still under planning on games/foods but our
Max invitation only go up to 30!!!
*might be increase* However, you might wondering
who are the 4 Nuffnanger?
hehe
Birthday celebration on that day:
Location ******
Time ******
Dress Code *****
haha...wanna join our 4 nuffnanger bloggers birthday celebration? haha...Stay Tune for the poster to be out!
Tats all for today
Thank for your viewing! xD
[
Do Tag or comment before you leave this blog
]
眼眶熬着夜