06/07/09
Monday,
Bloggers Birthday BBQ party Invitation
Hello people! welcome back again! After the long planning of
Bloggers Gathering in July 2009!
Here come its result...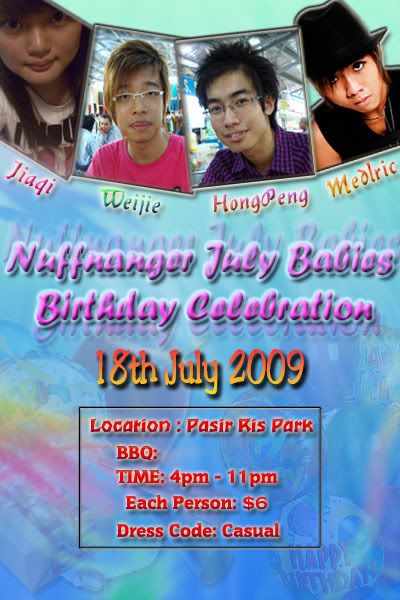 As the theme: [
Nuffnanger July Babies Birthday Celebration
]
Yes! After planning FOR so long....here are the invitation to all Nuffnang blogger to this Birthday BBQ party! Detail are states in the Poster Above!!! However, the FULL DETAIL such as BBQ pit number, will only release to those invited bloggers!
Here are the 4 organizer of this event:
HoNg PeNg (Me)
WeiJie
Meldric
JiaQi
Some Detail here
Detail 1
- Well, i know every gathering sure got shy people...therefore, Nuffnanger are allow to bring max. 1 friend along to join in the fun of this BBQ event...
Detail 2
- What going on throughout this whole event? There will be Games,Cake-cutting,BBQ..etc and after 12am, Drinks Party!
Detail 3
- Any special guest coming for this party? Answer is YES! mediacorp artists? Nuffies? Singer? Famous blogger? haha you will know on that day if you attend! xD
Due to space limit... We only invite up to 30 bloggers only!!! 30 ONLY!!!! Faster RSVP and grab your invitation ticket!!
Lastly...This BBQ party not free...Blogger who willing to come, you need to
pay $6
for this BBQ party! The collection of money will be done at
15th july (wednesday) @ Plaza sing starbuck
...Timing of collection will be release only to invited blogger either via through Email or Sms...!
So people! how you RSVP?
First way, you can just simply comment in this post or you can tag in my TagBox!
Second way, you can Email Me at
hongpeng90@gmail.com
Tats all for today!
Thank for your viewing! More update coming up! xD
[
Do Tag or comment before you leave this blog
]