Here your time to get some finger clicking again... haha... Is Voting! Yup! Need you to vote for my friends,
Benjamin Khoh
, in his Hark Music in collaboration with EQ music & spunkpunkfunk image consultancy and he also hoping to be one of their 18 artistes to release a debut album next year. *He will get kick out if he left behind the last 6 in vote ranking*.. So... Do remember to give a vote for him now!
Vote Link:
http://www.yellob.us/real-singer/mid-phase-evalutaion/benjamin-khoh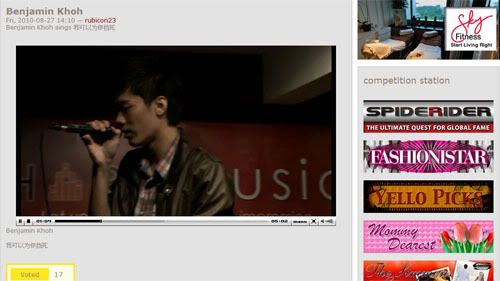 How does it work? actually very simple... Just few steps and its make your day happy ever! Check it below now!
1.You have to register with Yellob.us
here
.
2. Fill in the 2 empty fields.
3. Verify your email and vote!
Message from Benjamin Khoh:
Note: You can vote everyday under 1 account! But if you just vote once, i'd be very appreciative already! And if you really want to hear my music on my debut next year, please vote everyday! And if you haven't followed me on
twitter
you can follow me to know what im up to. Alternatively, you can join my
FB page
to be updated what I'm doing weekly!
//End Message//