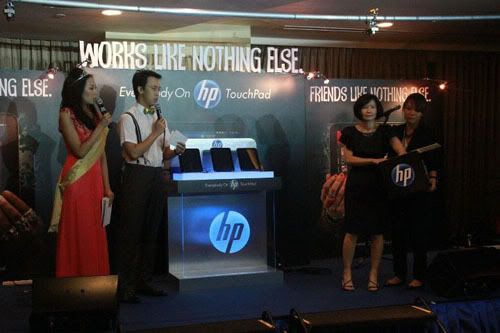 Singapore, 26 July, 2011 – HP today announced that the Wi-Fi version of the HP TouchPad will be available in Singapore on 12 August. The HP TouchPad is the breakthrough webOS user interface realized in the tablet experience.


1. With its vibrant 9.7-inch diagonal flush capacitive multitouch display, virtual keyboard, instant-on access, support for Adobe® Flash® Player in the browser and access to thousands of webOS applications.

2. The HP TouchPad works the way you do and is designed not just for fun but for mobile productivity.

"HP's vision is to seamlessly connect all your worlds through the power of HP webOS. The launch of the HP TouchPad today is only the beginning of how HP will scale with webOS across the device spectrum. You will discover that the HP TouchPad simply works the way you do for both personal and professional use.

The platform has unmatched features and flexibility that works like nothing else," said Serena Yong, general manager for HP Personal Systems Group, Singapore.



HP TouchPad works the way you do
The HP TouchPad user interface is a visual representation of your workspace, so you can manage your workflow in a naturally intuitive way that's easy and fun. The power of webOS next-level multitasking lets you have multiple applications running at the same time. (5) WebOS

HP TouchPad and HP TouchPad Accessories Pricing and Availability HP TouchPad
(

Singapore recommended retail pricing

)
16GB: S$699.00
32GB: S$799.00
HP Touchstone Charging Dock: S$109.90
HP TouchPad Wireless Keyboard: S$79.90
HP TouchPad Case: S$49.90
HP TouchPad International Power Adaptor: S$39.90
BeatsTM SoloTM Headphones: S$420.00



Availability

: Available from authorized retailers, and direct from HP from 12 August 2011. There will be a special promotion in conjunction with National Day. For the month of August, the HP TouchPad with 16 GB of storage will come with a HP TouchPad Case.

The HP TouchPad with 32 GB of storage will come with a HP TouchPad Case and the HP TouchPad Wireless Keyboard. Pre-orders will be available via the online store and participating retailers from 27 July to 11 August. For More Information, Do visit:

www.hp.com.sg/touchpaddeals