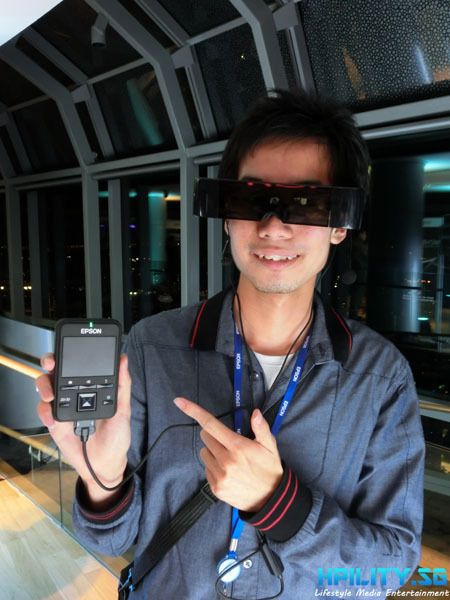 Introducing new technology gadget out in the market! Epson unveiled their latest personal entertainment technology – Epson Moverio BT-100 designed to help you re-envision your everyday, the Epson Moverio is a sleek and portable mobile viewer that comes packed with features that allow you to do away with looking at a physical screen.


The Epson Moverio BT-100 is composed of a headset that uses groundbreaking micro-projection technology and an Android-powered media player and controller. The device allows users to view streaming video, experience 3D content (in side-by-side format) and enjoy downloaded digital content on a large virtual 320-inch perceived screen projected from 20 meters away.

Featuring built-in 802.11n wireless connectivity and nearly six hours of rechargeable battery life, the device offers an innovative, portable way to interact with content from virtually any location. Users can also easily access downloaded content via the device's microSDHC card slot (4GB card included) and built-in 1GB of internal storage, even without wireless network access.



Epson Moverio Features:
- LCD Technology: Leveraging Epson's leadership in LCD technology and visual imaging, the Moverio is able to project a 320-inch perceived "floating" display 20 meters away from the user.

- Excellent Mobility: Rechargeable battery offers nearly six hours of battery life.

- Download and Go: Transfer content, games and apps to the included 4GB microSDHC card or internal 1GB of user storage on the controller.

- Operating System and Support: Google Android-powered with 802.11n wireless connectivity to stream videos from popular television websites which features Flash 11 content and content rich Flash-enabled websites.

- Big Sound: Dolby Mobile surround sound delivered to personal earphones or Moverio's detachable earphones (included in-box).

- Innovative Navigation: Touch-enabled track pad and navigational buttons enable easy interaction of content.

- Immersive 3D: Enjoy side-by-side 3D formatted content like never before.


The Epson Moverio BT-100 will be available in Singapore from 23rd July 2012 exclusively at selected Best Denki outlets at the recommended retail price (RRP) of S$999.00.

Customers who wish to pre-order the Moverio can do so at the following Best Denki outlets from 9th – 22th July 2012 and enjoy a free 16GB Micro SD card (worth $18) and a pair of CX215 Sennheiser earphones (worth $68.90).

Best Denki Outlets
Compass Point – 1 Sengkang Square, #03-26, Compass Point
Jurong IMM – 2 Jurong East Street 21, #02-01/07, IMM Building
Ngee Ann City – 391 Orchard Road, #05-01/05, Ngee Ann City Podium
Parkway Parade – 80 Marine Parade Road, #02-33, Parkway Parade Complex
VivoCity – 1 HarbourFront Walk, #02-07, VivoCity