Woohoo! Hello Readers! Welcome back to my blog! Today I am going to share with you guys about my two day one night trip to Bintan Lagoon Resort sponsored by Nuffnang and Journeyful. Specially thanks to Nuffnang and Journeyful for the great invitation for the Direct Ferry to Bintan Lagoon Resort Media Launch.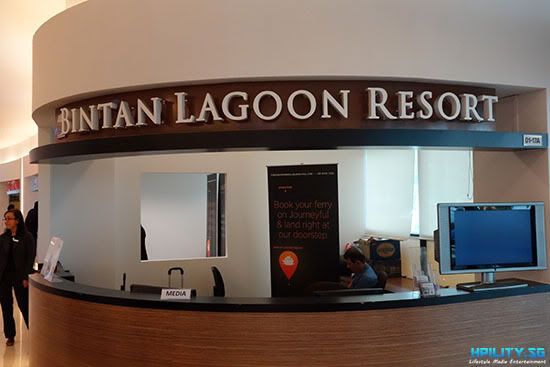 This event happened last Friday Morning whereby we bloggers and media were crowded at the Tanah Merah Ferry Terminal meeting point to onboard the Queen Star 1 Cruise. This was the first time Singapore direct ferry to Bintan Lagoon Resort and I like it because it saves up the time in travelling from Singapore to Bintan.
Photo with YuHao and Silver Ang at the Departure Area
Queen Star 1 Ferry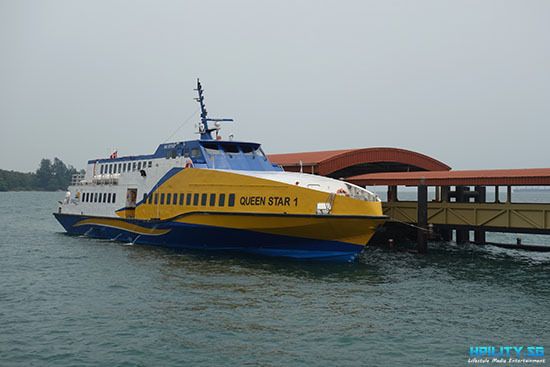 The whole journey took about an hour to reach Bintan Lagoon Ferry Terminal from Singapore and take a look at the picture below! I like the prefect welcome from the Bintan Lagoon Resort services.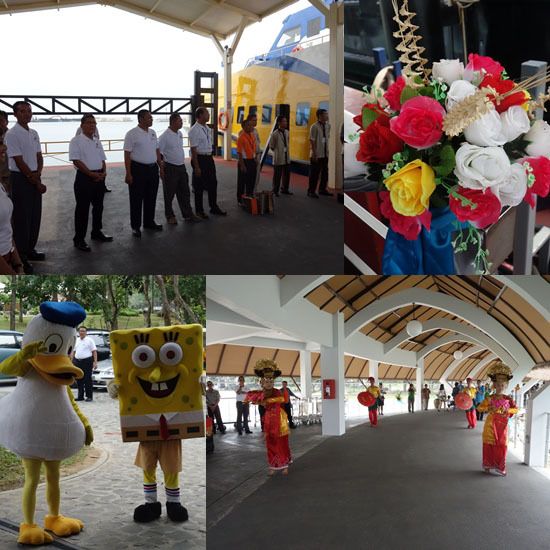 We were on our way to check-in our hotel! Yay!
This was my first time visiting Bintan Lagoon Resort! Therefore I am very excited in exploring the amenities of Bintan as well as the checking out the paradise place of Bintan. Somehow the infinite swimming pool caught my eyes attention when I received my welcome drink at the resort lobby.
Yup! Here it is!! This is how my hotel room looks like! Bravo! *I stun at a moment when my first step into my hotel room* lol… There were a Queen-size comfortable bed with soft pillow, a LCD television beside the table desk and elegant decoration surrounding my room.
Alright next, time about 3.45pm we onboard a shuttle bus to RICE restaurant for the Direct Ferry Press Conference.
Classic Statue at RICE Restaurant
Lovely sea-view dining place on the beach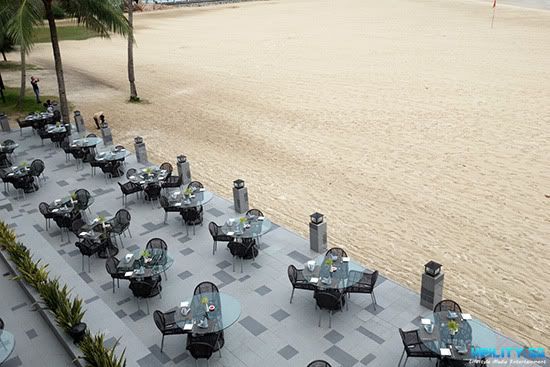 Photo with Jonathan, Jeraldine and Poh Ee
Delicious finger foods during the media refreshment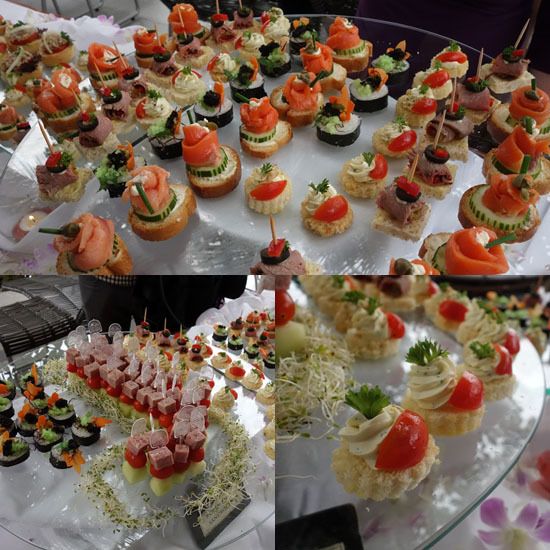 Press Conference unveiled the launch of direct ferry from Singapore to Bintan by Journeyful.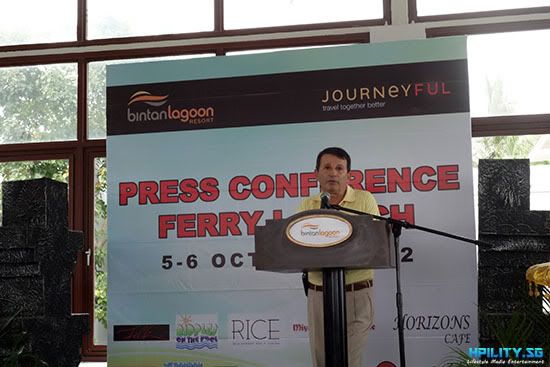 Next, we had a buggy tour around the Bintan Lagoon resort, checking out their amenities service and attractions. Hence, we also visited the premium villas which have a unique and pleasant homely feel. I like their comfortable bed, sofa and elegant display of lights around the wall and corridor door and apart from that; there was a private pool behind the villa too.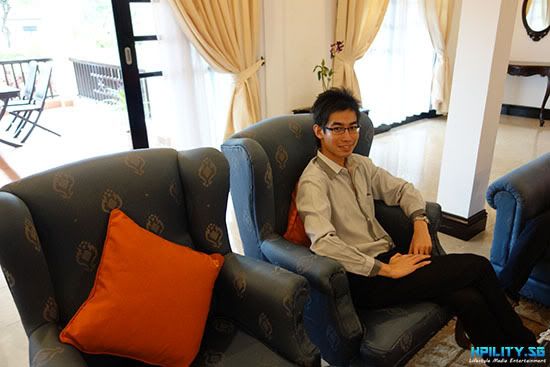 Followed by with the amenities place, we visited the Leisure Centre whereby people can have some fun games and it was a great chilling out at this area too. However, there was a way linking to the swimming pool to the hotel too.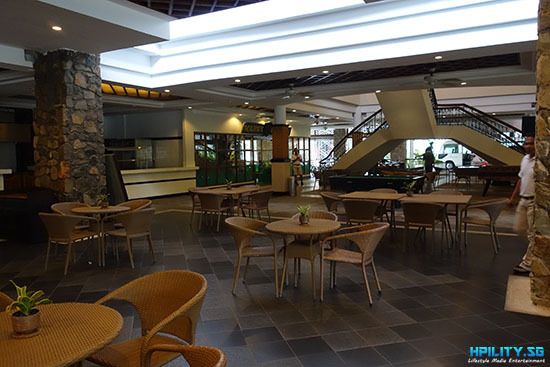 Well, next I took a buddy ride together with my blogger friends to visit the Golf Course in Bintan. The tour came by a stop whereby we were able to take a nice group photo before proceed on to our next dining destination. Took a photo at the Golf Course with Jaslyn, Poh Ee, Jonathan, Lianne and Ziwei.
Woot! We had arrival to our dinner dining destination! A Warm-hearted welcome from the Bintan people and I feel like I am walking through a red carpet! Hahaha…
Yes!!! You never see wrong! We were having our dinner on the Golf Course! Gorgeous tables and chairs setup lined along the golf course to welcome the media and guest for having a delightful dinner.
Shalny Family Photo
Photo with Felicia Neo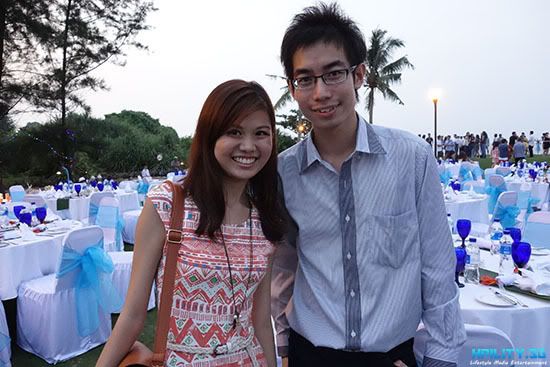 Love the Seashell candle light
Delicious and well-prepared buffet dishes! Yummy!
Tiramisu Dessert
A toast for successful Journey from Singapore to Bintan!
The most memorable part was here – The release of Sky Lantern! Woohoo! My first time releases a sky lantern and it's memorable when I see my lantern flying up to the sky. *Success* I believed that everyone enjoyed their moment during the releasing of sky lantern too. Took a photo with Shalny husband's Amos and Jonathan.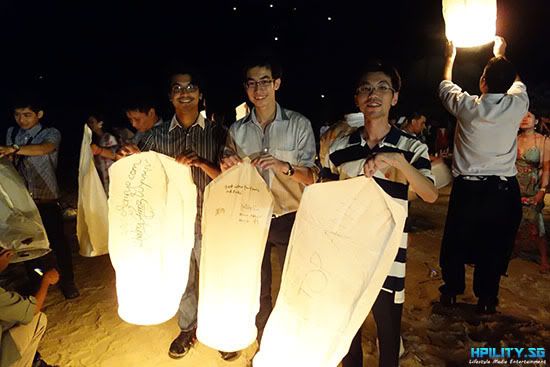 The moment of Sky Lantern release up to the sky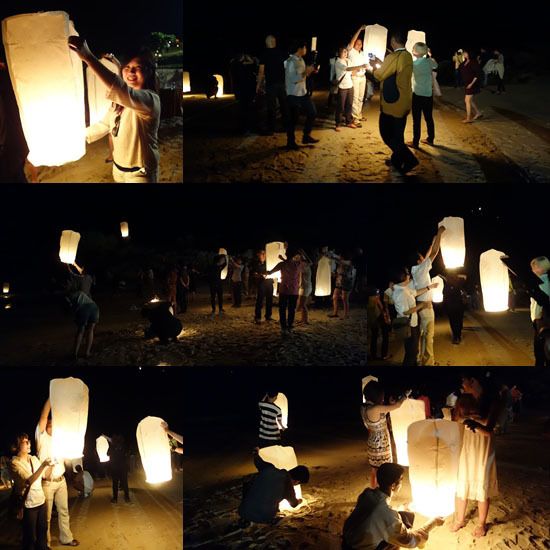 Photo with Shalny Son's Wyvrn
It's party time! Next we headed to Silk Night Club to have some drink and chill out session with group of media friends. Free flow of drinks and foods for us to enjoy throughout the night! Awesome!
Photo with Jezreel, Moe, Stephanie and Noel at the Bintan Silk Night Club!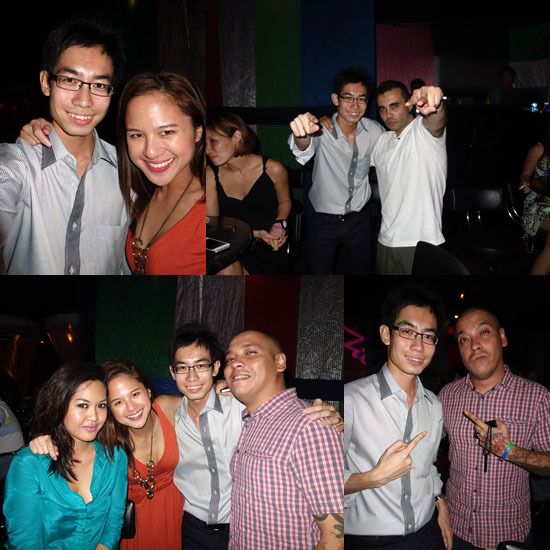 Day 2 of Bintan Lagoon Resort Trip… Good Morning! It was a graceful morning to start off my international buffet breakfast at the Kopi-o café.
Sweet place outside the Kopi-o café
Next, we kick-off our second day with lots of fun games activities! My friend and I rented an electric bike from the Leisure Centre and cycle all our way down to the beach area.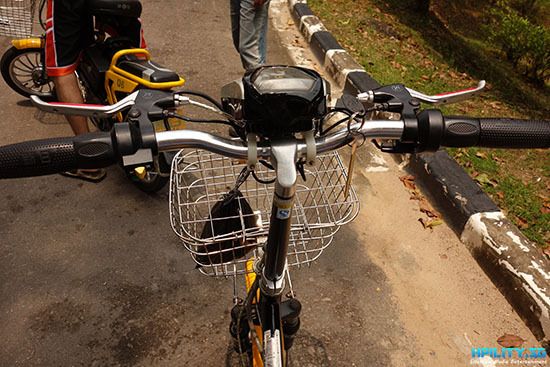 Nice view scenery of road path
Beautiful peaceful clean Bintan Beach
Side by side along the beautiful clear beach, we visited the 'seasport counter' whereby people can enjoy their seasport games at this section. My friend and I decided to try out the ATV ride as it was the most recommended.
ATV Ride!
After driving an exclusive tour through the Bintan forest with the ATV ride, passing by and seeing lots of nature trees and leave, experience the muddy sand splashing, I could say that the ATV was awesomeness!!! I would love to play it again if I visit Bintan Lagoon resort again!!! Haha
Coming to the end of Journey, we had our lunch at 3-Signature seafood restaurant before check-out of hotel. Yummy foods and desserts shared with my friends!
Group photo with the Nuffnang Bloggers and Friends!
Group Photo Credit to: Hui Xian
Home sweet home back to Singapore and I call it the end of Bintan Journey Trip. Overall, Journeyful had made a great success in this media trip and I had enjoyed throughout the whole journey with all the good things happening. I rate the overall service 9.5/10 stars and I would like to go back to Bintan Lagoon Resort for my wonderful paradise holiday with
Journeyful
again! *Smiles*